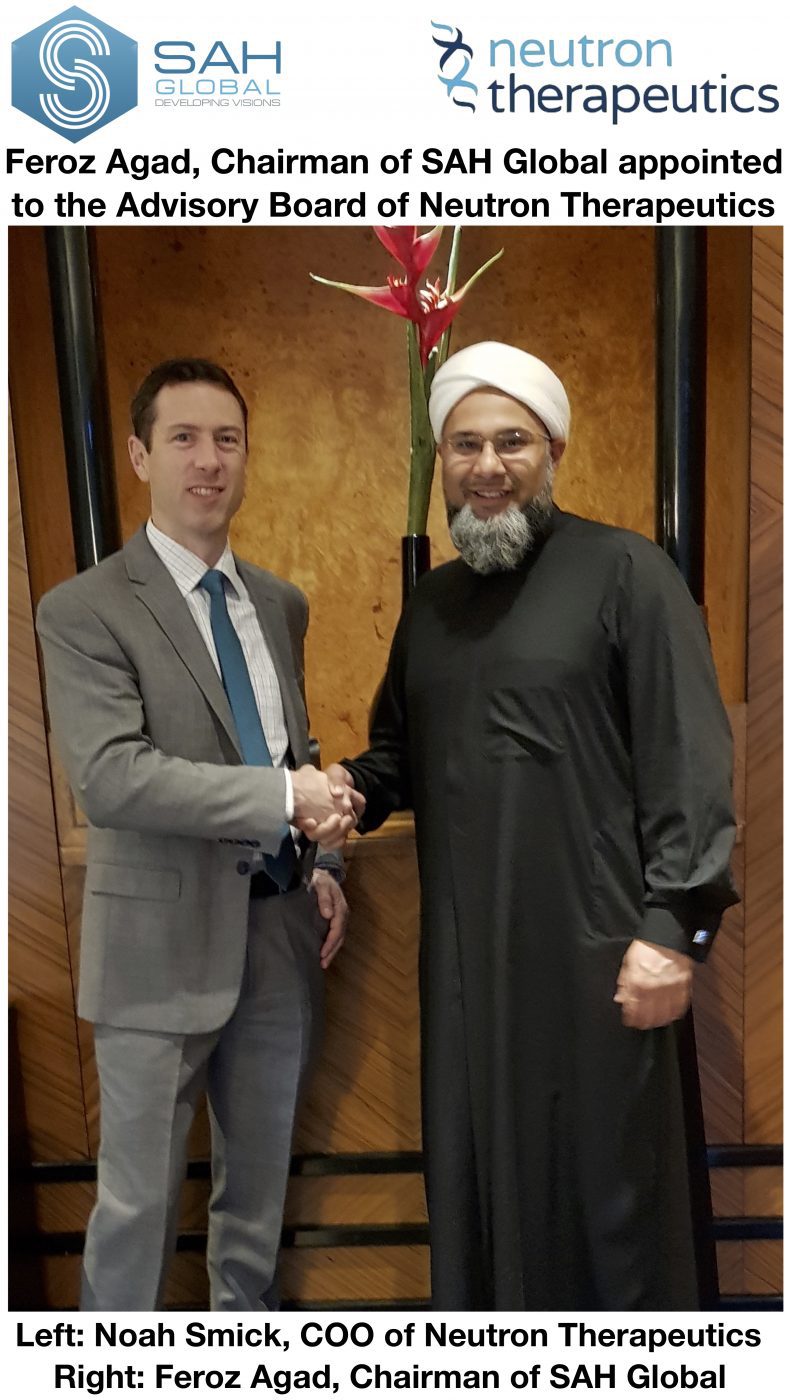 August 9th, 2019 – Atlanta, Georgia U.S.A.
Feroz AGAD, Founder, Chairman and Chief Executive of SAH Global and SAH Care appointed to the Advisory Board of Neutron Therapeutics Inc.
Neutron Therapeutics Inc. (NTI) is a Medical Equipment Company founded in 2005 to bring Boron Neutron Capture Therapy (BNCT) out of the realm of medical research and transform it into a widely available first-line cancer therapy.
NTI has developed an accelerator-based, in-hospital neutron source composed of a 2.6 MeV electrostatic proton accelerator and a rotating, solid lithium target for generating neutrons. NTI will provide this neutron source as part of a comprehensive therapeutic treatment suite, that will combine all of the necessary components for BNCT treatment into a user-friendly package.
BNCT is a unique type of radiation therapy that enables targeting of cancer at the cellular level and treating cancer with a non-invasive two-step process. First, patients are injected with a tumor-seeking drug containing a non-radioactive isotope (boron-10) with a high neutron capture cross-section. In the second step, the patient is exposed to a beam of low energy neutrons, many of which are absorbed by the boron-10. The absorption initiates a reaction that emits short-range, high-energy charged particles. Which systematically destroy the tumor cells while imparting relatively little damage to adjacent areas of healthy tissue.
Feroz AGAD is an accomplished executive, investor and entrepreneur with over 15 years experience of managing multimillion-dollar corporations in industries including healthcare, real estate, communications, tourism and information technology. By capitalizing on his business acumen, technical expertise, interpersonal skills and strategic mindset, Mr. Agad has been instrumental in penetrating new markets and achieving significant sales growth for the companies he has previously founded and managed. Mr. Agad presently sits on the board of directors at four companies and sits on three advisory boards, a committee for a non-profit humanitarian organization and a committee on education.
He established SAH in 2004 with the vision of using the company as a catalyst to bring cutting edge Healthcare technology to the developing world. SAH Global is currently focused on establishing a global network of Proton Therapy Cancer Centers, while SAH Care is the medical treatment abroad division which currently brings cancer patients from around the world to SAH's network of Cancer Centers for treatment in the USA.
In his overall reach in the fight against cancer, Feroz AGAD has particularly impacted the Industry of Proton Therapy and has demonstrated an exceptional spirit of Innovation to ensure patients from across the world have access to best treatment available. Feroz AGAD defines the future readiness of the Oncology organizations to not only meet the market demand, but to provide compassionate and comprehensive care to patients wherever they live.
With this appointment, NTI will use the experience of Feroz AGAD and of the SAH teams to develop its business, to get the regulatory approvals such as FDA and CE marks, and to conduct the necessary clinical studies to make BNCT available to more of the patients who could benefit from this exciting technique.
About SAH Global
Strategic Alliance Holdings Global, LLC ("SAH Global"), is a holding company founded in 2005 to establish highly specialized projects in areas such as healthcare. SAH Global has actively pioneered the effort to bring vital cancer treatment solutions to the Middle East. SAH Global believes in building a strong sustainable society, and as such, will leverage the success of its global ventures to make long-term contributions to the community, promote the growth of their employees, and help create a greener environment.
Read more on www.sahglobal.com
About SAH Care
SAH Care was established to ensure that patients from across the world can have access to the best treatments available. We work tirelessly with local physicians and a global network of leading healthcare providers to bring excellent quality cancer care to our patients. Our team, partners, and supporters share a commitment to improve the delivery of high-quality, patient-centric cancer care.
Through travel medicine, we have found a way to provide access to advanced cancer care for those who live in areas where proton therapy centers are yet to be built. We believe that patients deserve to receive the most advanced cancer treatment in the world today despite geographic boundaries and limitations. The SAH Care team provides this compassionate, comprehensive care to patients wherever they live.
Read more on www.sahcare.com
About NTI
Neutron Therapeutics is a Boston-area medical equipment company founded in 2015 by New Zealander, Bill Buckley. The mission of NTI is to provide innovative technology solutions that will enable BNCT to realize its maximum potential in the treatment of difficult cancers.
The Neutron Therapeutics neutron source is not approved for commercial or clinical use by the FDA or EMA or other regulatory body.
Read more on www.neutrontherapeutics.com