Dubai,-  November 13, 2018 – The Smart Health Conference has granted Mr Feroz AGAD, Chairman of SAH Global , the Top 50 Smart Healthcare Leaders Award.
SAH is proud to see its Chairman, Mr Feroz AGAD, rewarded for his outstanding contribution to the Healthcare sector.
In his overall reach in the fight against cancer, Mr Feroz AGAD has particularly impacted the Industry of Proton Therapy and has demonstrated an exceptional spirit of Innovation to ensure patients from accross the world have acces to best treatment available. Mr Feroz AGAD defines the future readiness of the Oncology organizations to not only meet the market demand, but to provide compassionate and comprehensive care to patients wherever they live.
With the rates of newly diagnosed cancer cases increasing globally and cancer being amongst the world's leading cause of death, Mr Feroz AGAD raised the question :  "what must the global community do to win the fight against cancer ?"
« In order to tackle the issue at hand, the field of Oncology care is rapidly evolving with many organizations and institutions investing heavily in various advanced technologies and treatment modalities. Many patients are now well informed of the treatment options available. However, not all Cancer Centers are able to provide the most up to date treatment due to financial constraints and often times lack of expertise in niche treatment deliveries.
Our industry has reached a point of inflection and the need for integrated collaboration across facilities is more important today than it has ever been in oder to provide the right treatment for the right patient at the right time. »
Mr Feroz Agad is the Founder, Chairman, and Chief Executive Officer of SAH Global & SAH Care. Mr. Agad is a very highly accomplished visionary executive and strategist with 20+ years of achievement and proven success with owning and operating multimillion-dollar corporations. He established SAH in 2004 with the vision of using the company as a catalyst to bring cutting edge Healthcare technology to the developing world. SAH Global is currently focused on establishing a global network of Proton Therapy Cancer Centers, while SAH Care is the medical treatment abroad division which currently brings cancer patients from around the world to SAH's network of Cancer Centers for treatment in the USA.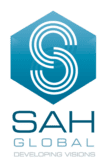 About SAH Global
Strategic Alliance Holdings Global, LLC ("SAH Global"), is a holding company founded in 2004 to establish highly specialized projects in areas such as healthcare. SAH Global has actively pioneered the effort to bring vital cancer treatment solutions to the Middle East.
To learn more, visit our websites https://sahglobal.comand https://www.sahcare.com

About the Smart Health Conference
Smart Health is dedicated to the mission of improving healthcare, by facilitating an open dialogue between the different industry stakeholders. The award ceremony recognizes the individuals and companies who have aided the advancement of healthcare. The conference offers a forum for the technological and professional exchange of knowledge, skills, and tools related to the broad field of Healthcare Tech.
To learn more visit https://www.smarthealth.events