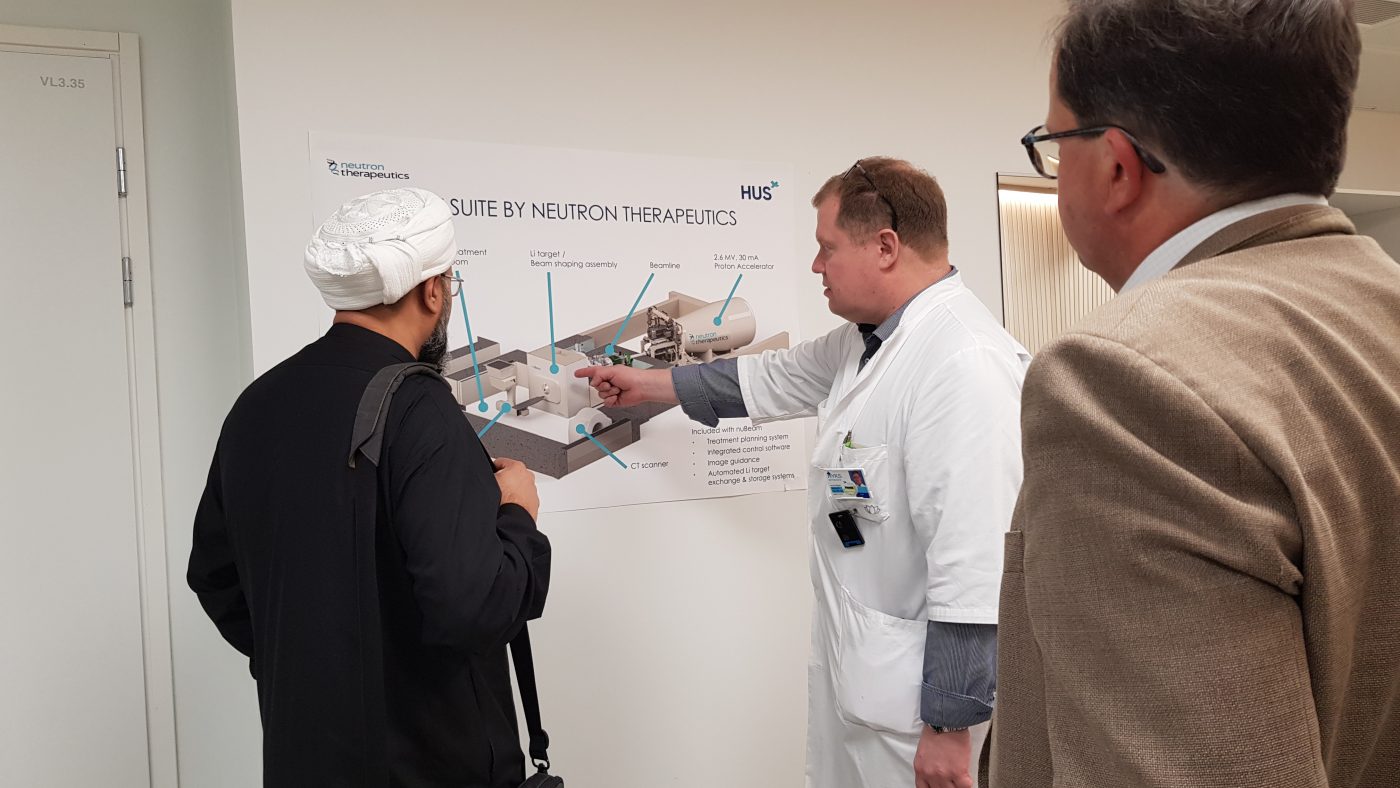 September 10th, 2019 – Atlanta, Georgia U.S.A.
SAH Global and neutron Therapeutics Inc (NTI) have entered into agreement to develop Boron Neutron Capture Therapy (BNCT).
BNCT is a powerful alternative to traditional radiotherapy and proton therapy, with the ability to deliver targeted radiation to cancer cells while sparing surrounding healthy tissue.
In BNCT treatment, a boron carrier compound injected into the blood stream is selectively absorbed by tumor cells. The tumor is irradiated with a therapeutic neutron beam. The neutron beam reacts with the boron, while safely passing through surrounding tissue. The boron reaction produces highly excited alpha particles of very short path lengths (5–9 µm) that destroy tumor cells from the inside with minimal effect on immediately surrounding tissue. BNCT has successfully been used to treat cancer patients in cases where other treatment options have been exhausted. Typical BNCT therapies utilize two patient treatments vs. dozens for traditional radiotherapy, reducing stress on patients while enhancing treatment center efficiency and patient throughput.
NTI's unique and patented neutron source replaces the nuclear reactor in traditional BNCT research platforms. Engineered from the ground up for high reliability and ease of maintenance, NTI's platform can enable the widespread adoption of BNCT.
SAH is committed to the development and introduction of state-of-the-art cancer treatment technology in the Middle-East, Africa, Latin America, and Asia.
Through this agreement, SAH and NTI will collaborate to secure FDA and CE marks, and to introduce BNCT as a treatment for cancer patients worldwide.
About SAH Global
Strategic Alliance Holdings Global, LLC ("SAH Global"), is a holding company founded in 2005 to establish highly specialized projects in areas such as healthcare. SAH Global has actively pioneered the effort to bring vital cancer treatment solutions to the Middle East. SAH Global believes in building a strong sustainable society, and as such, will leverage the success of its global ventures to make long-term contributions to the community, promote the growth of their employees, and help create a greener environment.
About SAH Care
SAH Care was established to ensure that patients from across the world can have access to the best treatments available. We work tirelessly with local physicians and a global network of leading healthcare providers to bring excellent quality cancer care to our patients. Our team, partners, and supporters share a commitment to improve the delivery of high-quality, patient-centric cancer care.
Through travel medicine, we have found a way to provide access to advanced cancer care for those who live in areas where proton therapy centers are yet to be built. We believe that patients deserve to receive the most advanced cancer treatment in the world today despite geographic boundaries and limitations. The SAH Care team provides this compassionate, comprehensive care to patients wherever they live.
About NTI
Neutron Therapeutics is a Boston-area medical equipment company founded in 2015 by New Zealander, Bill Buckley. The mission of NTI is to provide innovative technology solutions that will enable BNCT to realize its maximum potential in the treatment of difficult cancers.
The Neutron Therapeutics neutron source is not yet approved for commercial or clinical use by the FDA or EMA or other regulatory body.