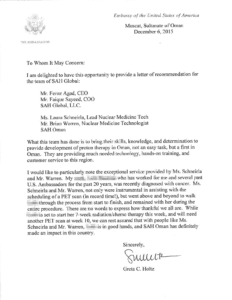 SAH Global is the proud recipient of a letter of recommendation from former Ambassador of the United States to the Sultanate of Oman, the Honorable Greta C. Holtz. Ms. Holtz served as Ambassador to the Sultanate of Oman from 2012 to 2016 and during that time a long-time embassy employee was diagnosed with cancer. Due to the efforts of SAH Global, PET scan technology was available in Oman, a fact that made a significant difference in the employee's care and treatment, as Ambassador Holtz describes:
"What this team has done is to bring their skills, knowledge, and determination to provide development of proton therapy in Oman, not an easy task, but a first in Oman. They are providing much needed technology, hands-on training, and customer service to this region…There are no words to express how thankful we all are."
SAH Global is dedicated to expanding the availability of advanced technologies like PET, and advanced cancer treatments such as proton therapy, in Oman and throughout the Middle East and North Africa . It is only through research, advanced knowledge and advanced medical practice that the global clinical community can improve patient outcomes and win the battle against cancer. SAH Global strives to provide the technology and treatments they need to achieve these goals.